Early Exits – 12:30
It didn't take long, but we have lost three players in the first half an hour.
Terry Jordon, Firat Basbaydar & Andrew Hedley are the three players who haven't made it past level one.
Day 1A Counts – 12:15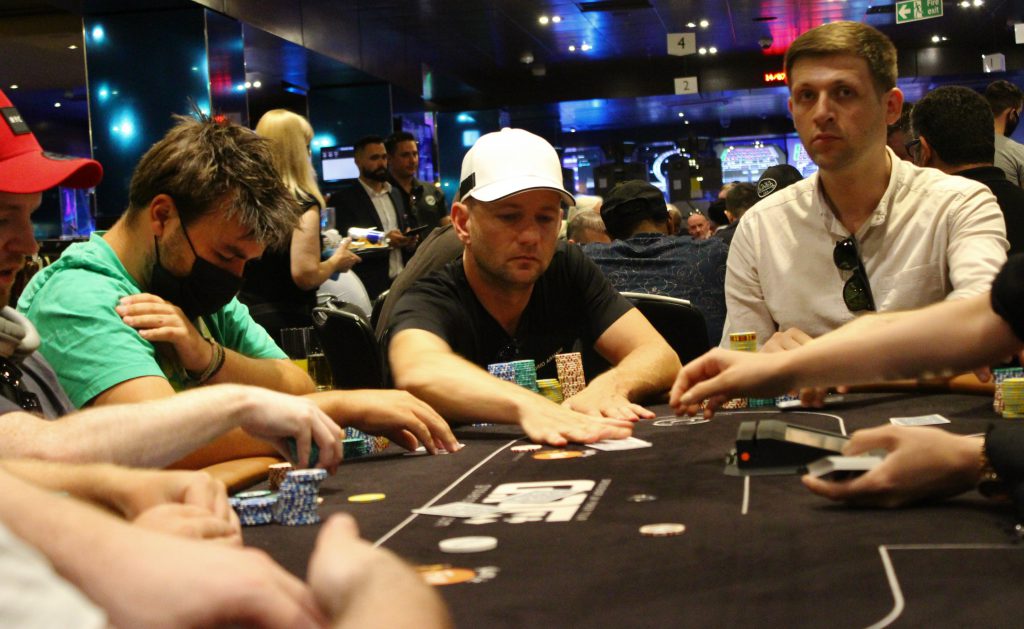 ForenameSurnameChipsAndreiMunteanu166900ThomasLangley146600RaulMartinez139500DannyPyke129000SimonGillis127000EuanMcnicholas121200DanielGormley111400AnaAntunes110800MazBako109600DanielMoran107000OliverPrice100600ArtanDedusha95800MinJi92000ChrisMaguire91800SebastienJung91300DavidAnderson89000AnthonyGardner88000TL88000TimJoyner86900JackHardcastle85200IanBosley84400ThomasHall83000PaulVas Nunes81200JohnNeocleous77200ConorOdriscoll73400PaulMcaulay70800DavidLopezllacer60500PaulNewey58400JasonShellum47200JamesClarke46500RobertJames44200DanielTighe43200RichardLazarus42000HugoDuarte32400BenjaminRoberts32200GuyBowles31700DanielJames29600AidenHynes29300SimonBaker28600DavidDocherty28400BennyGlaser25900JoeHindry25900MorganePortier21800HarveyBautista18700RyanMandara17500BradleyRawson16000
Shuffle Up & Deal – 12:01
The cards are in the air as we begin Day 1B.
The blinds are 100/100 with each player starting with 20,000 chips.
90 players are sat down to start the day.
Welcome To Day 1B – 11:50
Good afternoon and welcome back to Day 1B of the GUKPT London Main Event. Today we have not one, but two day ones, one starting in 10 minutes at 12pm and the turbo day one starting at 8pm.
We're expecting it to be extremely busy and could hit close to 400 entries in total for both days.
Play begins at 12pm and we are here for the full ten levels of play.